3-Day Mushroom cultivation Class
A Mycological Exploration
Discover the entire mushroom cultivation process!
Like the mycelial network, we thrive in environments of abundance and support.
We truly believe there is no better learning environment than to be surrounded by like-minded individuals.
By learning in a conducive, collaborative environment supported by experienced growers, you will be able to turn a single spore print into a lifetime supply of mushrooms: sacred, edible, and medicinal.
You will be confident, supported AND excited to start your mushroom cultivation journey!
Learn and Grow in Paradise





Tzununa, Lake Atitlan, Guatemala

Complete Mushroom Cultivation Training
Master the whole process of mushroom growing from collecting spores to picking your fresh mushrooms. You will learn and apply many proven indoor and outdoor techniques, learning to grow gourmet, medicinal, and sacred mushrooms for you and your community.
Make Authentic Connections
Become a node in the mycelial network. Collaboration is the foundation of our learning environment. The more meaningful connections there are in a network, the stronger it is. By learning together with everyone, you weave yourself into a global web and form bonds that last.
A solid foundation of practical mushroom cultivation skills
Learn from an experienced group of Fungal Educators👩‍🎓
Never have we faced such daunting challenges to both our personal and environmental health, yet a remedy exists right beneath our feet.
With the help of the experienced Fungi Academy Fungal Educator Team we know that ANYONE can learn lifelong tangible skills for resilience!
At the end of this course you will have the tools to your disposal to confidently:
Grow food
Grow medicine (and psychedelic medicine)
Take charge of your mental and physical wellness
Reconnect with nature, and yourself
Help others in need 
From Fungi Academy students
Join hundreds of graduates from all over the world!👩‍🎓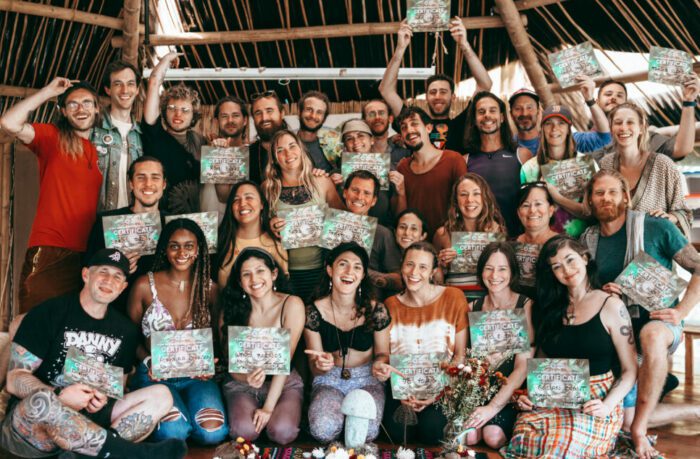 A worldwide "ShroomBoom" is happening, and the possibilities for any trained mushroom cultivator are endless.
With the skill sets learned or expanded during our courses. Our students have been able to start or find employment at:
Mushroom Farms

Mushroom Extraction Companies

Psychedelic Retreat Centers

Fungal Start-Ups

& mush more…
Are you ready to become Fungi Certified and join the hundreds of sporriors we have trained since 2016 ?

For an optimal learning experience we have limited the group size to 20 students.
Frequently asked questions