6-day Mushroom Cultivation course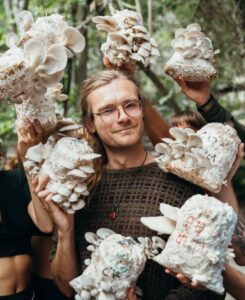 Jasper Degenaars
Netherlands
Jasper is a first-grade mycophile. His love for mushroom cultivation started in the Netherlands after growing his first mushrooms from 'Sacred Mushroom Grow kits.' Baffled by the mystery of the process, he set out on a journey to learn more!
With 10+ years of mushroom growing experience and more than 2,000 students taught since 2019, Jasper has set out on a mission to make learning mushroom cultivation Easy, Fun, and Exciting!
This Myconaut did not fit in the traditional academic system, AT ALL. Yet, his thirst for knowledge carried him on a path of life-long learning. With the skillset of a self-taught teacher, he aims to make the art and science of mushroom cultivation accessible to everyone aspiring to be a citizen mycologist.
Richard is a self-taught mushroom farmer who started learning about the craft of cultivation in late 2019. Utilizing YouTube university and the websites Shroomery and Mycotopia he was able to learn the ins and outs of growing medicinal, edible, and sacred mushrooms.

After deciding to come to Lake Atitlan Guatemala in 2021 he met many other mycophiles at the Fungi Academy. Richard was a co-facilitator with the first Atitlantis Mushroom retreat. It was then he realized his passion for teaching mushroom cultivation and decided to join the Fungi Academy team.

Richards's other passions and life works include integrative permaculture techniques, community living, natural building, and herbalism. He holds a bachelor's degree in Geography and a master's degree in Environment and Community focusing his studies on community living at 8+ intentional communities throughout Hawaii, Oregon, Australia, and New Zealand.
Darren Le Baron is a grass-roots researcher and event organiser based in London, the Director of Ancient Future, the Convenor of the Psychedelia Railway Gatherings and curator at Earth Tone Arts. After setting up Ancient Future in 2006, a voluntary organisation, he has continued to develop workshops and projects geared around creative arts, personal-development and African-Caribbean spiritual systems in his community. Collectively his work aims to inform and empower individuals from diverse backgrounds to cope with social challenges and contribute to community development as well as self-improvement in an innovative, creative, culturally-aware style.
He has presented at the Breaking Convention in London, the Detroit Entheogenic Conference, Ozora in Hungary, Altered in Berlin and numerous consciousness gatherings around Europe, the U.S and Africa. Darren is a knowledgeable and dynamic speaker who is passionate about sharing his research on African Entheogenic plants and their various applications on the continent and the diaspora. By day Darren is an Organic Horticulture and Food Enterprise tutor and teaches young people in east London. He's also a keen mushroom grower and for the last seven years has been growing edible mushrooms and has translated his home growing experience into a commercial experiment.
Cosmic Community Operator🌌
Karena has been a health blogger and influencer since she was 16. Her passion for wellness started at a young age when her parents grew ill due to poor lifestyle choices. When Instragram first released she jumped on board and decided to take the influencer route. She focused her time and energy into using this platform to spread positive and informative health and wellness tips that she learned through helping heal her parents from chronic diseases and illnesses.
She turned this passion into a career becoming 200hr+ Yoga Teacher, a NASM Certified Personal Trainer and Health Coach in 2016. As medicinal mushrooms became more popular online, she began to incorporate fungi into her practices and teachings, helping demystify and spread the magic of mushrooms
For an optimal learning experience we have limited the group size to 20 students. To assure our limited spots are available to a diverse range of people, we have decided to work with an application form.
After your application has been accepted by the Fungi Academy Family you are able to secure your spot by paying a $500, non-refundable deposit.
The deposit needs to be paid within 7 days of your acceptance before your spot will be given to the person next in line.

6-Day Cultivation Course
December 8-14, 2022
$
1277
3 Spots left at this price!
Complete Cultivation Course

Food & Accomodation included

Fungi Academy Fungiculture Design Certificate