May 17th, 2022
Mushroom Cultivation Q&A
Donation $5-20
(Free for Mastermind Students)
Do you find yourself running into mushroom cultivation issues but can't seem to find an answer anywhere?
Do you want to connect with fellow mycophiles across the globe?
Join us every third Tuesday of the month for a fun(gal) chat where we explore the possibilities of home-style mushroom cultivation, how to control and approach contamination issues, how to improve your sterile technique, or anything else mushroom cultivation-related.
No question is too weird or to extreme for us!
Our next Q&A is slated for Tuesday, May. 17th at 6PM (18:00) Mountain Time (MT) for a 90 minute Zoom call.
The link is provided upon registration!
Attendee Limit: 40
Donation $5-20
(Free.99 for Mastermind Students)
Meet your Facilitators
Sam the Mushroom Man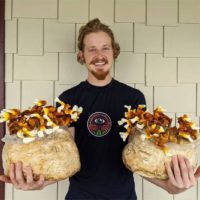 Sam is a mycophile, award-winning journalist, and small business owner from the United States who arrived at the Fungi Academy one midsummer's day in 2019 and left six weeks later with lifelong friends and a passion for mushroom cultivation.
In the past three years, he's started a medicinal mushroom extract company, cultivated and foraged over 20 species of gourmet and medicinal mushrooms, and returned to the Fungi Academy to teach his techniques to students.
Jasper Degenaars

Jasper
is the CEO of Fungi Academy and the co-founder of the Sacred Mycology Online School, the first fungi-focused online school teaching individuals how to grow and work with Psilocybe Cubensis anywhere in the world.
He's taught more than 1,000 people how to successfully grow all kinds of mushrooms and believes that Sacred Mushrooms have the potential to deepen our connection with nature, ourselves, and our communities.