the biology behind the zombie ant fungus
Donation $25
(Free for Fungal Ecology Students)
Link is provided upon registration!
The ability to infect insects arose multiple times along the evolution of Fungi.
However, none has shown such broad and sophisticated strategies to infect, persist and transmit spores than the so-called "Zombie-Ant Fungi"!

In this talk, Dr. João will take us through how these behavior manipulators arose and which strategies they have developed in order to thrive and spread through several species, becoming a diverse fungal group.
João's research interest is related to insect-associated fungi. He is interested in taxonomy, systematics and evolutionary ecology.
Currently, João is working on the diversity and evolution of Japanese, Amazonian and African entomopathogenic fungi.
His typical approach is to combine fundamental taxonomic science with natural history, field work, evolutionary biology, microscopy and photography.
He is also interested in Scientific Illustration and Science communication through the arts.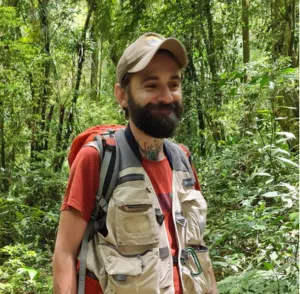 Scientist, Educator Entompathogenic Fungi Expert