6-day Mushroom Cultivation course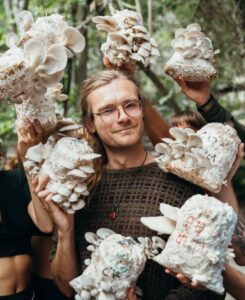 Jasper Degenaars
Netherlands
Jasper is a first-grade mycophile. His love for mushroom cultivation started in the Netherlands after growing his first mushrooms from 'Sacred Mushroom Grow kits.' Baffled by the mystery of the process, he set out on a journey to learn more!
With 10+ years of mushroom growing experience and more than 2,000 students taught since 2019, Jasper has set out on a mission to make learning mushroom cultivation Easy, Fun, and Exciting!
This Myconaut did not fit in the traditional academic system, AT ALL. Yet, his thirst for knowledge carried him on a path of life-long learning. With the skillset of a self-taught teacher, he aims to make the art and science of mushroom cultivation accessible to everyone aspiring to be a citizen mycologist.
Cosmic Community Operator🌌
Karena has been a health blogger and influencer since she was 16. Her passion for wellness started at a young age when her parents grew ill due to poor lifestyle choices. When Instragram first released she jumped on board and decided to take the influencer route. She focused her time and energy into using this platform to spread positive and informative health and wellness tips that she learned through helping heal her parents from chronic diseases and illnesses.
She turned this passion into a career becoming 200hr+ Yoga Teacher, a NASM Certified Personal Trainer and Health Coach in 2016. As medicinal mushrooms became more popular online, she began to incorporate fungi into her practices and teachings, helping demystify and spread the magic of mushrooms
Mystery Teacher
For an optimal learning experience we have limited the group size to 20 students. To assure our limited spots are available to a diverse range of people, we have decided to work with an application form.
After your application has been accepted by the Fungi Academy Family you are able to secure your spot by paying a $500, non-refundable deposit.
The deposit needs to be paid within 7 days of your acceptance before your spot will be given to the person next in line.

6-Day Cultivation Course
January 16-22, 2023
Complete Cultivation Course

Food & Accomodation included

Fungi Academy Fungiculture Design Certificate