Online sacred Mushroom
Cultivation Course
Learn how to grow psychedelic mushrooms!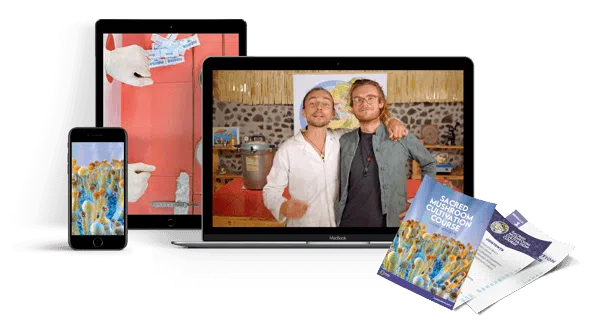 1888+ students and counting…
Whether you are a complete beginner or have dabbled with mushroom cultivation before, the 70+ video lessons and 130+ page workbook in this course will give you the skills to grow your own magic mushrooms confidently.
Fungi Academy connects you with experts from the global network of citizen mycologists and psychedelic change-makers.
Yes, we know what you are thinking. 😅 You will also learn how to grow magic mushrooms!
Get the skills to heal, grow, and thrive
Master the whole mushroom cultivation process
Have you always dreamed of growing your own sacred mushrooms, but don't know where to start?

Did you try to learn by yourself, but are overwhelmed by the excessive amount of articles, YouTube videos, and forum posts out there?

By the end of this course, you will understand the entire mushroom cultivation process!

You will be confident AND excited to start your sacred mushroom cultivation journey.
What you'll learn in the
Sacred Mushroom Cultivation Course...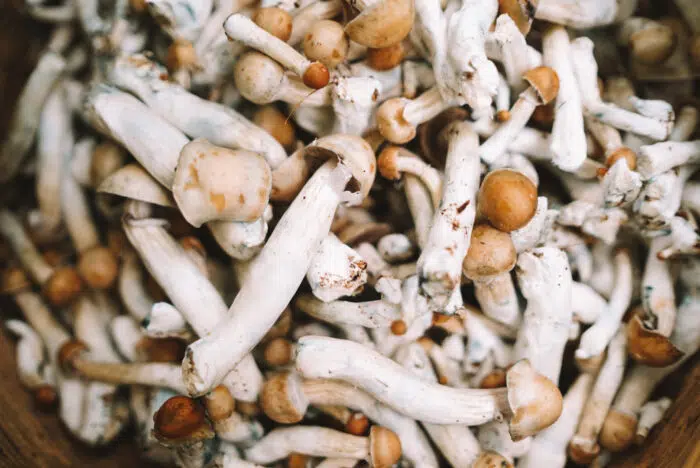 Introduction to this Course

This is the introduction module. In 5 video lessons you will learn what this course is all about, how to use this course and get the best results as fast as possible.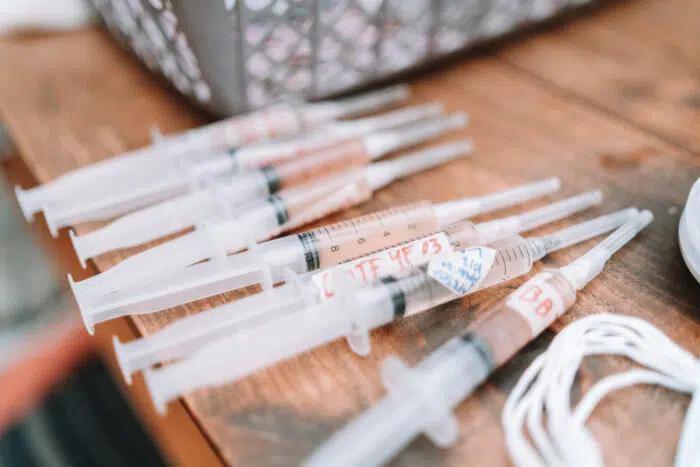 This module is all about the different ways to start your mushroom cultivation journey! In 6 video lessons you will learn about spores, cultures, clones and where to source them.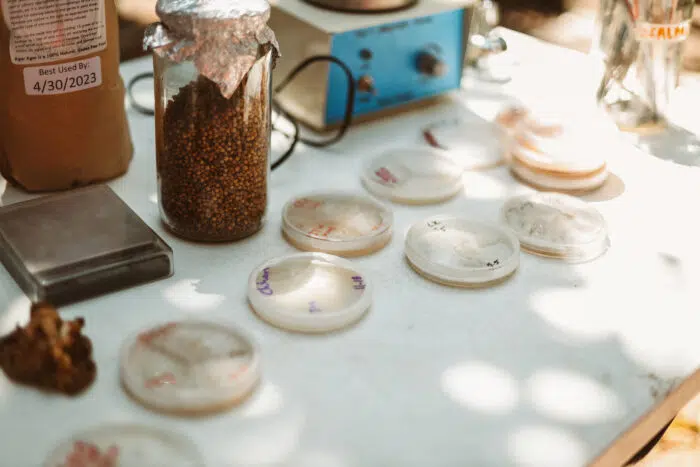 Mushroom Cultivation Equipment
In 7 video lessons you will learn about all the different tools and equipment you need to successfully cultivate mushrooms.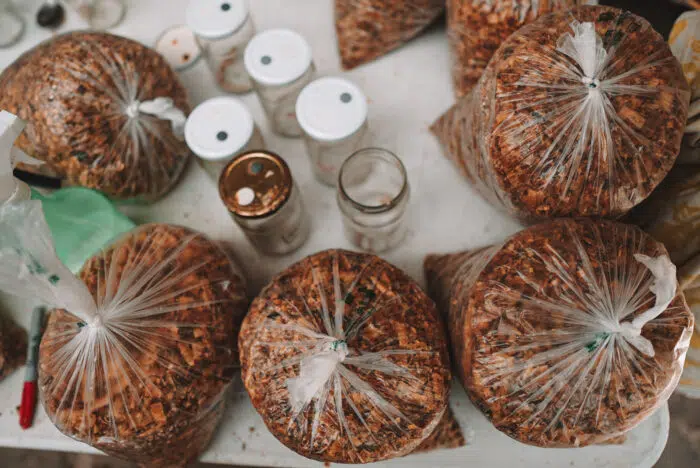 Mushroom Cultivation Basic Principles
Now it's time to get started! In 7 video lessons you will learn how to think like a mushroom! We will take you on the journey of the mushroom lifecycle, how to avoid contamination and how to avoid making all the mistakes that we have!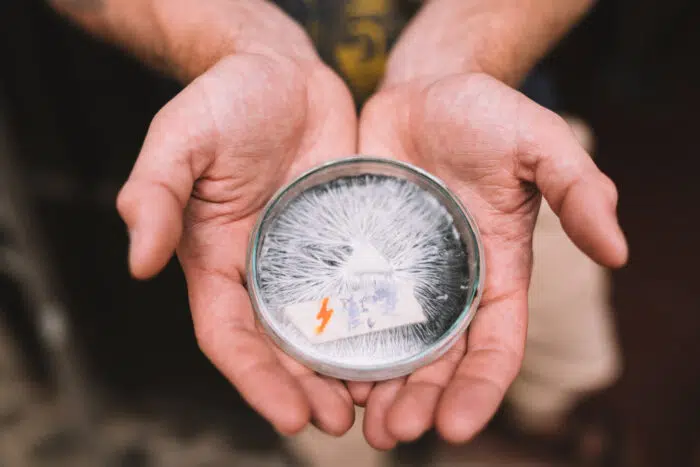 Nurture Your Mushroom Culture
This is the spine of mushroom cultivation. With a total of 11 video lessons you will be the master of setting up a home-style lab environment & proper sterile workflow to propagate your mycelial culture in no time.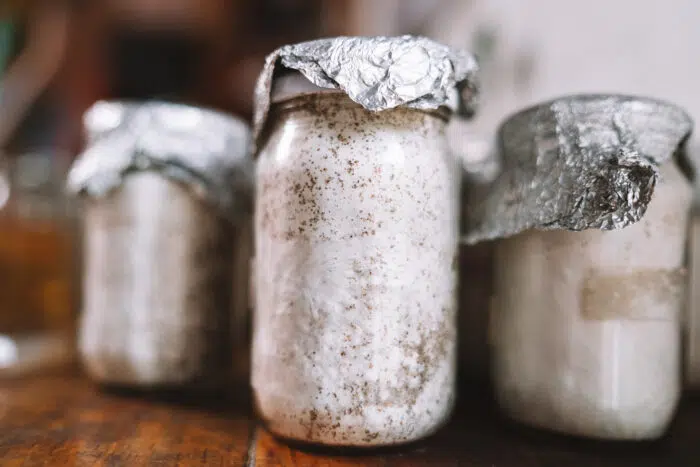 Dive into the world of grain. In these 6 video lessons you will learn why mycologists work with grains, grain supplements & the best practices working with your grain.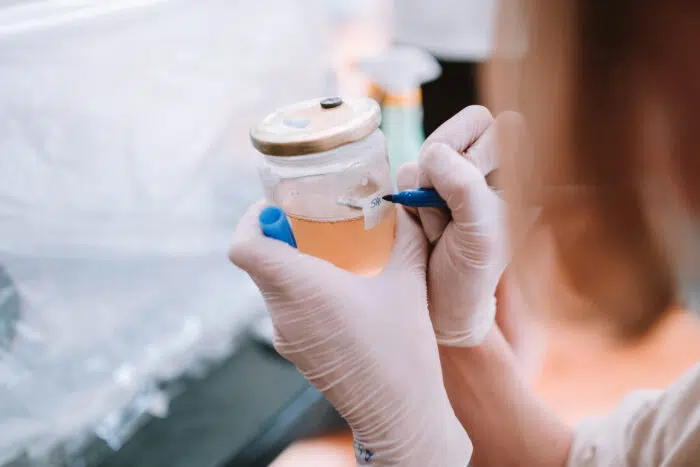 In these quite crazy 7 video lessons you will learn how to make & care for liquid culture. This liquid mycelium helps you seriously speed up and simplify your cultivation flow. It also makes the whole shebam way easier.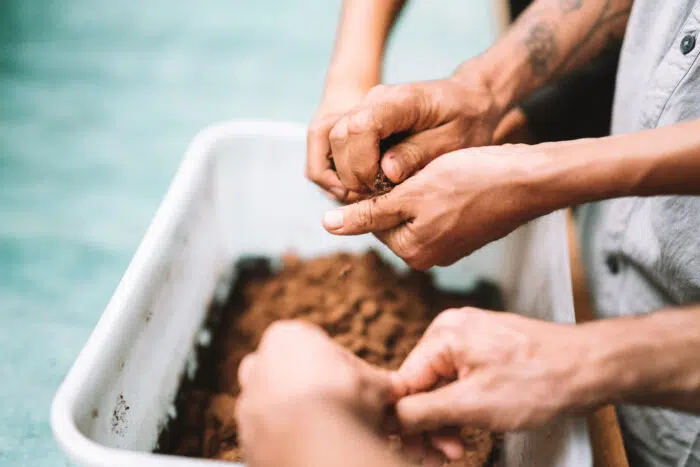 Bulk substrate or fruiting substrate is the last food you give to your mycelial culture before you are rewarded with the ultimate price for all of your hard work. After these 8 video lessons you will be a true beast of the bulk.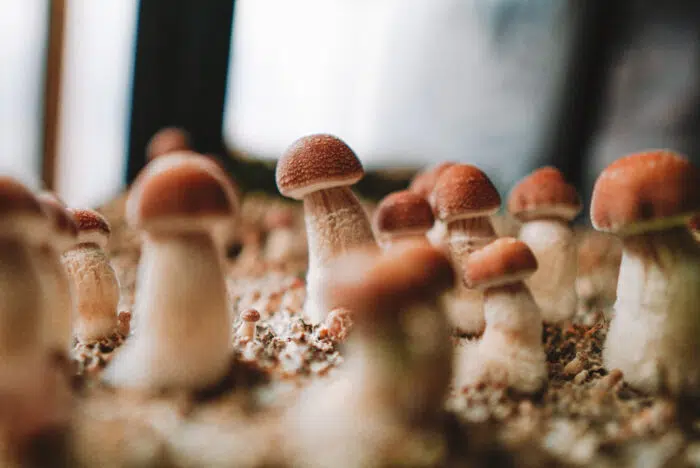 In the 7 video lessons of this module you will learn all about creating the right conditions for your mushrooms to grow, the best practices for harvesting & storing your mushrooms and how to get the most out of your monotubs.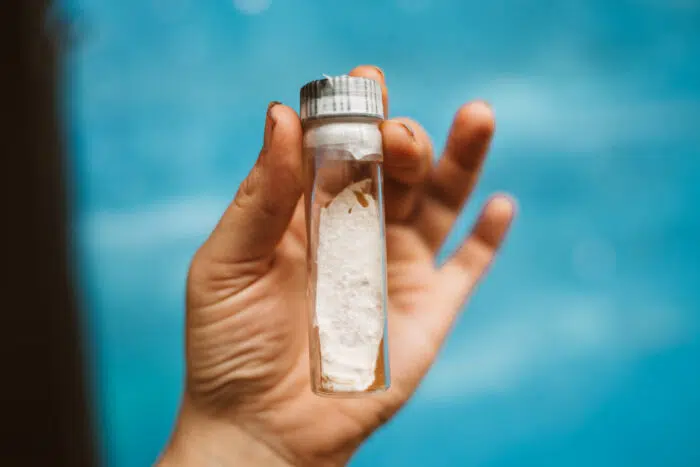 Storing your Cultures & Spores
In these 6 video lessons you'll learn that proper culture preservation is an essential part of mushroom cultivation. The main objective of preserving your cultures is to store them in an active and stable form for long periods while staying practically the same!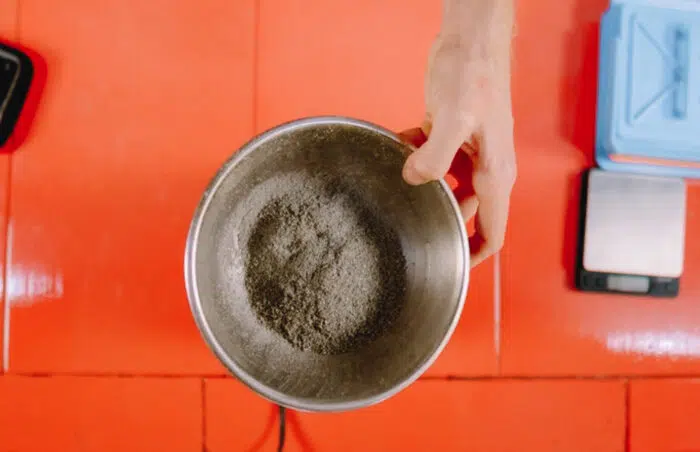 In these 4 video lessons you'll learn what to do with all the mushrooms you have grown! As well as a step by step guide on how to make microdoses. Ending with a graduation party to celebrate how far you've come!
Oliver Merivee and Jasper Degenaars
Oliver and Jasper are both first-grade mycophiles. For both of them, their love for mushroom cultivation started in the Netherlands after growing their first mushrooms from 'Sacred Mushroom Grow Kits.' Baffled by the mystery of the process, they both set out on a journey to learn more!
With a combined 25+ years of mushroom growing experience and more than 5000 students taught since 2016, Oliver and Jasper set out on a mission to make learning online mushroom cultivation
Easy, Fun, and Exciting!
These two Myconauts did not fit in the traditional academic system, AT ALL. Yet, their thirst for knowledge carried them on a path of life-long learning. With the skillset of self-taught teachers, they aim to make the art and science of mushroom cultivation accessible to everyone aspiring to be a citizen mycologist.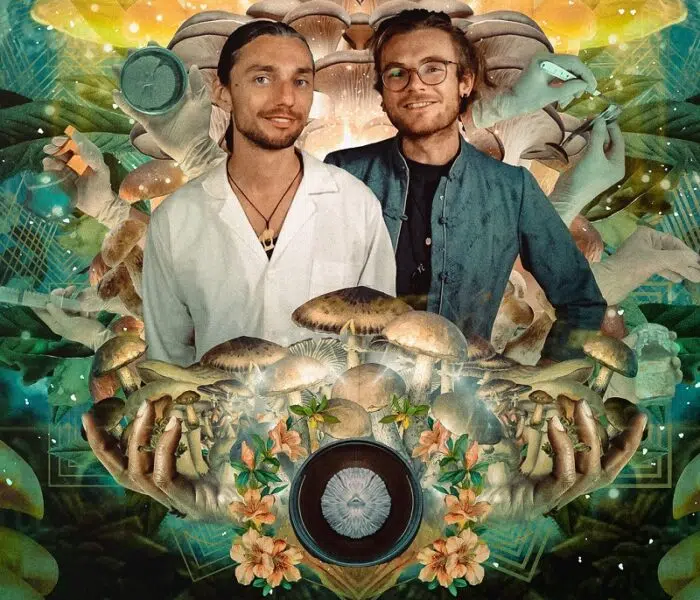 A solid foundation of practical mushroom cultivation skills
Solid foundation of practical mushroom cultivation techniques
With our simple and proven cultivation techniques, you will have the skills to turn a single spore print into a lifetime supply of mushrooms: sacred, edible,
and medicinal.
Step-by-step mushroom cultivation video lessons that you can follow at your own pace.
You will master the whole process of mushroom cultivation, from spores to harvesting your food
and medicine.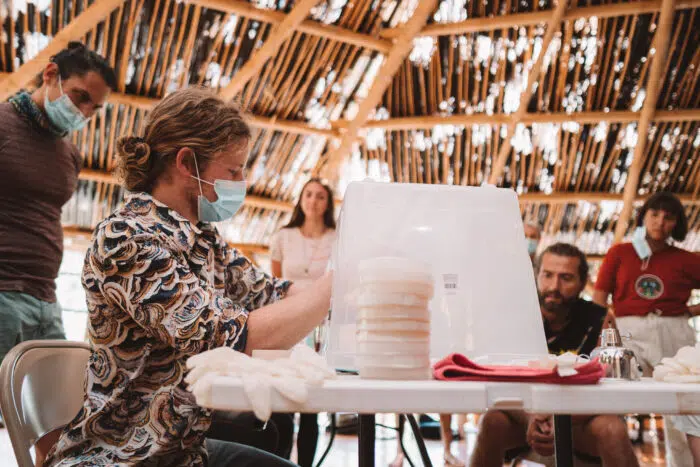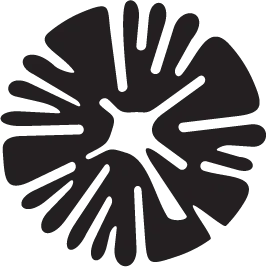 What is the Sacred Mycology movement?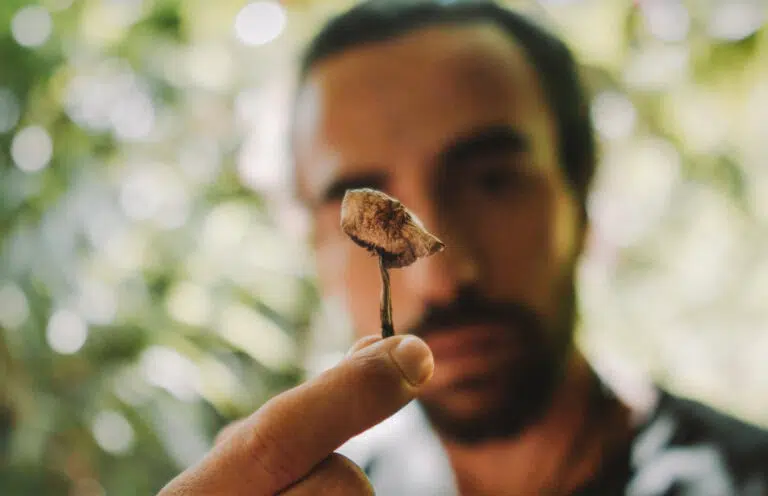 Sacred mycology is about creating meaning and purpose in our lives with the help of mushrooms.
It's about learning to interact and listen to nature's wisdom within us and around us.
This wisdom has the potential to help us heal and regenerate ourselves and our environment.
Sacred mushrooms can inspire us to find purpose and a deeply meaningful existence while living here on earth.
We envision a global culture that is educated, conscious, and tolerant towards psychedelic medicines and the people who use them.
About the Sacred Mushroom Cultivation Course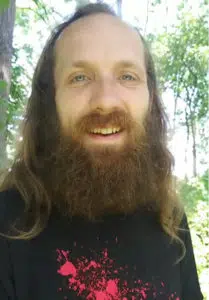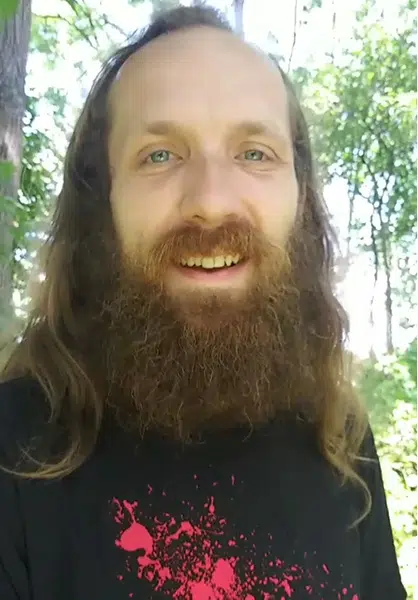 "Fungi Academy fills a desperately needed void in the education space with a modern, sometimes hilarious, but always informative crash course on home mushroom cultivation.
This course provides the steps and instills confidence in the grower with practical, yet easy to digest information.
10/10, A++ – would Fungi Academy again!"
Mushroom Cultivator & Entrepeneur
"I so wish this course had existed when I first started growing mushrooms!
You no longer have to dig through old forum posts, or piece together information from random corners of the internet.
Fungi Academy lays it all out, step by step, in a fun and engaging way!"
Mushroom Cultivation Teacher & Entrepreneur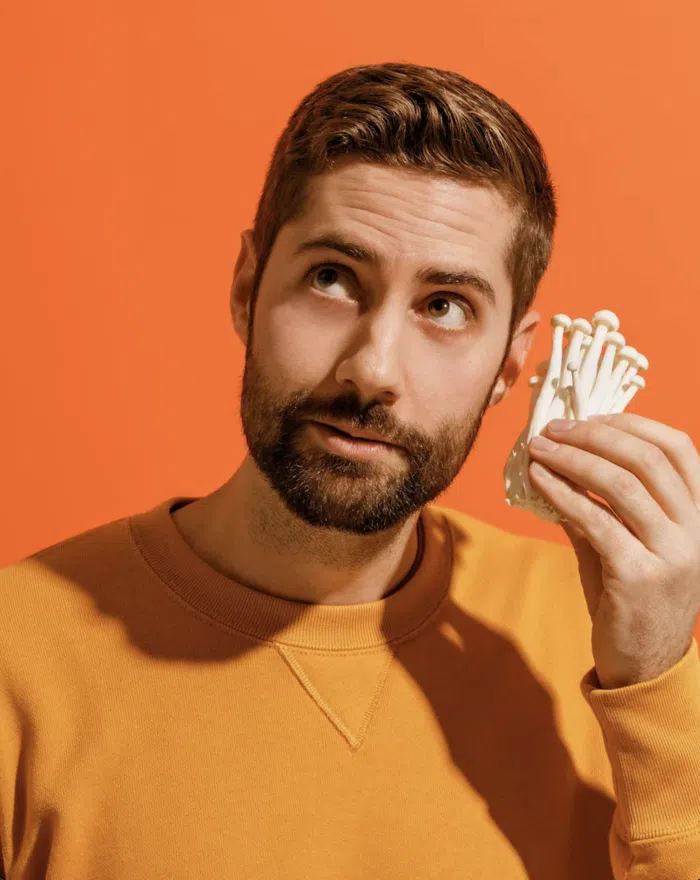 From Fungi Academy students
"It is the best online course I have ever taken, and well worth the money. It has been a joy to learn with Oliver and Jasper, and the process of successfully growing cultures for the first time has given me new confidence. After this course, I can easily see myself in a career where I work with mushrooms."
"I've seriously taken a gazillion online courses about everything and more...there is nothing like Sacred Mycology School. the way they broke down something complex so clearly, the video work, the entertainment...all of it💯🍄🔥❤ "
"I think this is a great course for anyone (especially beginners) interested in mushroom cultivation. I feel more motivated and confident to start my mushroom cultivation journey. If a friend would express that they are interested as well, I'd definitely tell them to buy this course. Good value and entertaining hosts!"
"All the information is condensed in one space, with short, quick, and simple instructional videos. Learning from Jasper and Oliver, two down to earth guys, with a sense of humor made it enjoyable. You can tell they are both extremely passionate about mycology, and teaching their Jedi Secrets to others."
"The breakdown of the different processes, the organization of it, the information is easy to understand for even the biggest beginners. The animations and sound effects are great! I love the PDF's that are attached to specific lessons they pertain to. All the information anyone needs to start growing mushrooms compiled into an easy to understand and user friendly course....... I love it I love it I love it"
"I liked the enthusiasm, silliness & solid information."
"I liked EVERYTHING! I thought the course was laid out great, the instructors were fantastic. Learned a tremendous amount. Going to be a lot of fun."
"The Teachers are just awesome and so fun to listen to. I haven't even been able to put into practice everything I've learnt yet but I feel capable now."
"There is nothing out there that is like this and I love it"
"Informative & playful flow from module to module. Loved it! This course showed that so much work and community went into its making."
"This was a very engaging course full of knowledge, the teachers were fun and knowledgeable!"
"I liked everything! It was fun most of all. Watching things in action without stress makes learning more memorable. You guys are great! I learned a skill I will never forget."
"I liked how it was organized. Each main topic had a number of short presentations, with entertaining and informative videos and corresponding notes. So it was not only great to watch and learn the first time but also became a handy resource to review steps over time. It was so easy to find what I needed. But most importantly, it worked! I was successful in growing mushrooms."
Ancient fungal allies are emerging from underground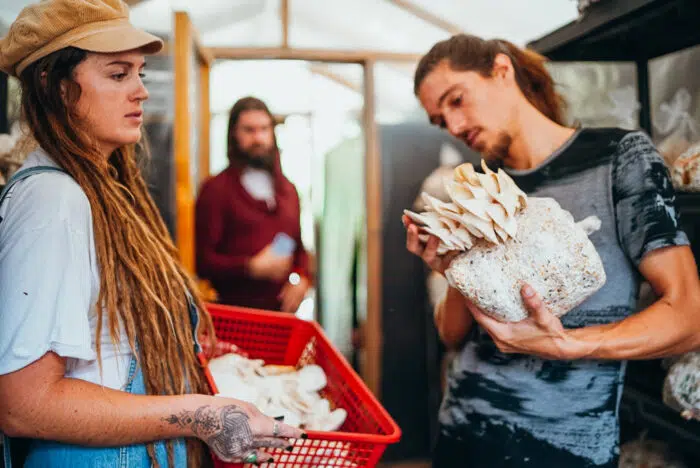 Never have we faced such daunting challenges to both our personal and environmental health, yet a remedy exists right beneath
our feet.
Learn lifelong tangible skills for resilience and get the tools to:

As sacred mushrooms become less stigmatized we bring you a course with fun, fast-paced, easy-to-follow mushroom
cultivation lessons.
Included in the Mushroom Mastermind bundle: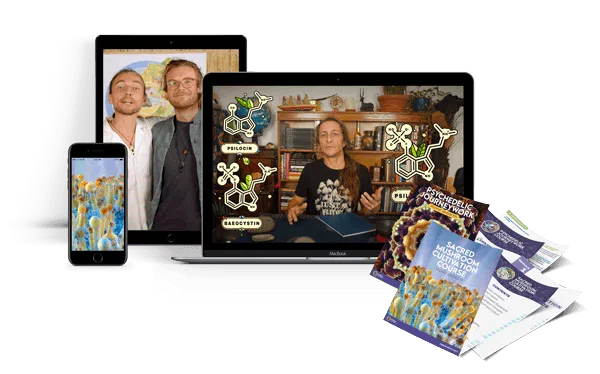 Cultivation Course only
Sacred mushroom cultivation course
$
297
Or 5 payments of $71
Sacred Mushroom Cultivation Course

Private Mushroom Mastermind Community
Mushroom Mastermind bundle
Sacred Mushroom Cultivation Course

Psychedelic Journeywork Course

Private Mushroom Mastermind Community

10 Mushroom Masterclasses
Frequently Asked Questions
We do not endorse nor condone the cultivation and use of sacred mushrooms. Especially if it is not yet legal where you live, you can customize your learning experience by starting this training with a (non-psychoactive) mushroom strain of your choice. 
We require our students to be 18 years or older. We reserve the right to suspend any students not of age.
We recognize there is a changing tide in the acceptance of sacred mushrooms. More people seek out psychedelic mushroom experiences to heal themselves, boost their creativity, or have fun. 
Our intention with the Sacred Mushroom cultivation course & the Mastermind is to educate responsible adults about all kinds of mushroom cultivation and psychedelic harm reduction.