All Aboard!
After weeks of preparation and a warm send off from our Bay Area familia, FungiBus is officially hitting the road! We are confidently leaving the Bay in good hands, assembling a team of rock-star sporriors before we departed. They are teaming up with the Bay Area Applied Mycology group, and will be holding mushroom cultivation workshops and gatherings in the region.
We make our way to the California Polytechnic Institute in San Luis Obispo for our first official stop. Nathan Whitman graduated from Cal Poly's Horticulture & Crop Science program a few years back and is now building a full-scale mushroom lab on the campus's Student Experimental Farm (SEF).


The future is fungi!
A "plant guy" by education, Nathan found there to be a gap in his studies. "In school we were essentially taught how to go to war with nature," he confided. "Fungi fill that gap for me."
Fungi are a key to designing living systems that work with nature, rather than waging an unnecessary war. Mycorrhizal fungi, for example, have the potential to become useful agricultural tools. These non-fruiting subterranean dwellers are capable of more safely & effectively fighting off harmful microbes than conventional pesticides.
The cultivation lab Nathan is building at SEF is technically his side-project. His "official" reason for returning to his alma mater is a little more steamy…. Literally. He is teaming up with a professor in the Physics department to create an inexpensive open-source design for a solar-powered bulk pasteurization barrel. This will enable growers to more efficiently and effectively prepare large amounts of substrate (like corn waste or straw, for example). This substrate is what one inoculates with living mycelium to begin the fruiting process.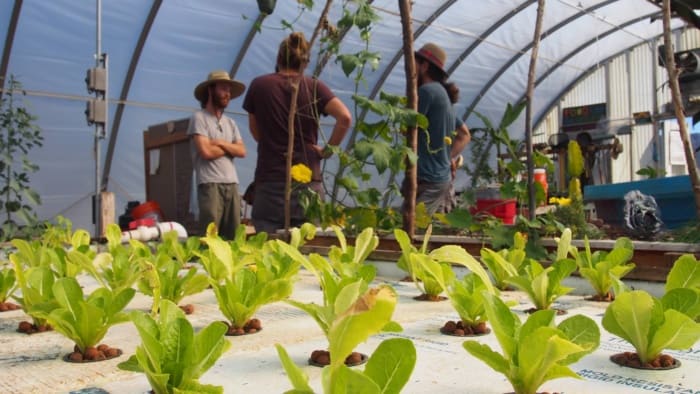 Experiments in companion gardening
Moreover, Nathan and his team are also experimenting with companion gardening. This means seeking to better understand which specific plant-fungi relationships are most beneficial. His team explores relationships of drought- and shade-tolerant plants using three varieties of fruiting fungi (elm oysters, king stropharia, and shaggy mane). Additionally, they are experimenting with a non-fruiting mycorrhizal fungi blend produced by Paul Stamets' company, Fungi Perfecti.
The clear winners are Stropharia rugosoannulata, commonly known as king stropharia or garden giant, which yields much greener, lush plants and the mycorrhizal fungi blend, which helps increase the overall size and health of the plants. Interestingly, there is also a noticeable increase in the drought tolerance of the plants. They actually exhibit even greater results when not watered regularly.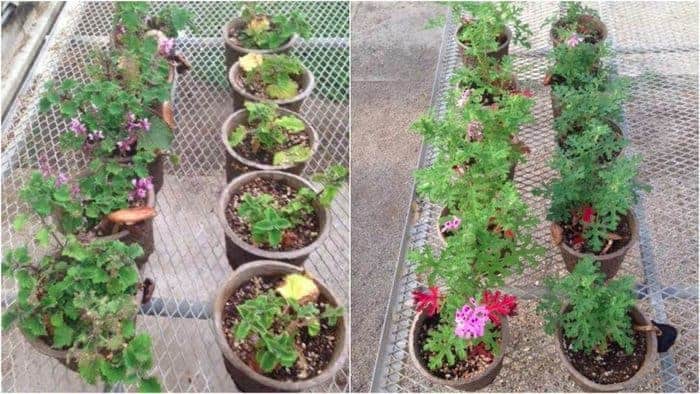 If you're interested in experimenting with companion gardening at your own home, king stropharia is easy to grow in your vegetable garden. You will be amazed at how your harvest will thrive from the nutrients released by this hearty, steak-like mushroom. As for the mycorrhizae, you can order a nice blend online, or just harvest it from the roots of cultivated grass!
A gift of a garden giant! (Pictured above)


The human mycelial network
After touring the farm, we cook up some gorgeous greens from SEF's garden and sit down with our fellow mycophile. We quickly discover we are lunching with a kindred spirit! As we chat with Nathan about his travels abroad, Findhorn, and Esalen, a pattern becomes clear to me…. I notice that mushroom-lovers often have a deep interest in travel and community living.
Yes, I acknowledge that the Fungi Academy crew tends to attract a very particular sort of crowd. However, I believe this perceived correlation to be no coincidence. Fungi inherently represent connection. They are the bridges of the forest, quietly connecting each plant underground. Hence, plants within an ecosystem can share not only nutrients, but learned wisdom via the mycelial network. We are part of a growing network of nomadic communities. This network brings humans from around the world together to share experiences, support one another and grow together. Divided, we survive. United, we thrive.
If you resonate with Nathan and his project, be sure check out his page Myco Polyculture and shoot him a message!