Last week the Fungi Academy paid a visit to Eva, a Kaqchikel Mayan woman living in Tzununá, to see her white oyster cultivation project. Eva has been growing these delicious mushrooms for two years and selling them in her local community.
She once showed up at Hummingbird Hostel with an impressive specimen that was about 10 inches in diameter! She's got an evident passion for fungi and it shows through her enthusiastic smile.
We were immediately impressed with her large two room setup in a building built specifically for its purpose.
The incubation room is fully blacked out, moist and warm – optimal for growing out mushroom spawn. The grow room houses long shelves full of corn cob grow bundles. Called "elote" in Spanish,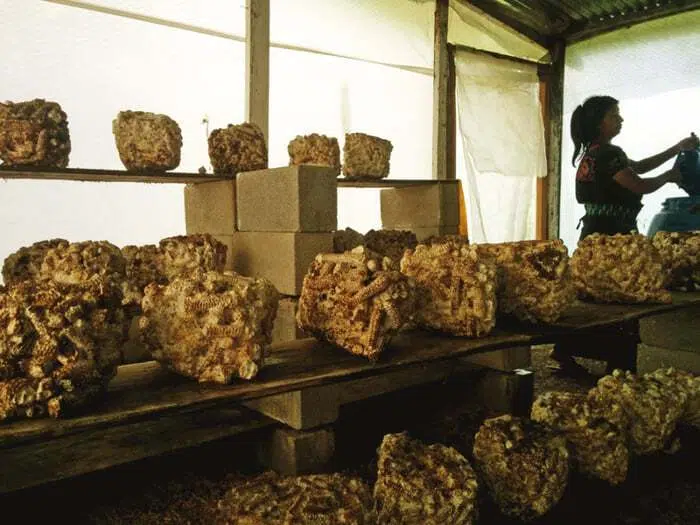 they make an ideal substrate for growing mushrooms here in Central America as corn is a ubiquitous crop. Eva gets the elote from local farmers and then resells the spent mycelial bundles back to them to use as fertilizer. A beautiful example of local circular economy.
Eva, a single mother of three bright beautiful boys, learned how to cultivate oyster mushrooms through a training she and two of her friends received from the Fundación Castillo Córdova. She tells us she was inspired by hearing how useful and versatile mushrooms seemed to be, providing nutritious food and also good natural "fertilizer."
Overcoming the fear of mushroom toxicity
She admitted to being very scared at first to eat the mushrooms herself though, and it took her and her friends a while to muster the courage to try them. It seems mycophobia is common here, many people believing there are more toxic varieties than edible. Of course once Eva discovered how delicious mushrooms are, they became a staple in her family's diet.
At the moment of our arrival, Eva had just recently harvested her latest crop, about 10 lbs of mushrooms, so the grow bundles were pretty bare, but luckily there were a few spawn still poking out for photos.
Eva recently faced a contamination problem and lost about 20 grow bundles that became infested with green mold. She explained that her partner hadn't properly sterilized the elote with lime (calcium oxide, an inexpensive disinfectant) and this had cost her about 400 Quetzal (~$55 USD).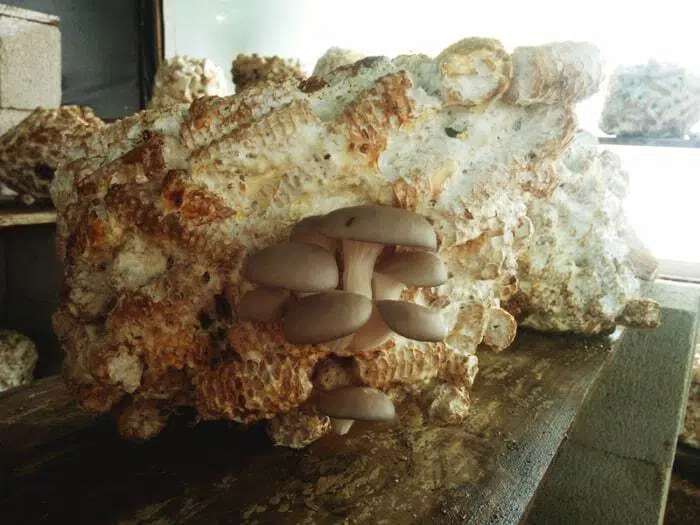 Since her setup is considerably DIY compared to uber-sterile Western standards, she is more susceptible to contamination. She didn't seem the least bit concerned, however, and said she's experienced less than a handful of issues in two years.
A few days after our visit, Eva came to our house in San Marcos to learn how to make her own spore prints and grow out mycelium culture. She also shared with us her lime disinfectant techniques.  
It's been a joy to exchange with this sharp, inspired young woman who's keen to continue learning more about fungi and developing her business.
Below you can find a couple more photos from our visit with Eva!