organic mushroom farming in china
ON DEMAND
2hrs of Content
Donation $5-30
Link is provided upon registration!
Have you ever wondered how the largest producer of organic mushrooms operates? There is no better person to show the wonders of Chinese Mycological ingenuity than Jeff Chilton.
Jeff will take us on his journey of bringing high-quality, organic mushrooms to the world. Any (aspiring) mushroom cultivator will be able to pick up some new teachings from our fellow Chinese mycophiles!
This presentation is followed by a showcase on how Namex & Real Mushrooms turn all these mushrooms into potent extracts. And how they make sure these extracts live up to their high standards.
We will finish this webinar with a live Q&A session with Jeff. He has more cultivation experience than most rooms filled with cultivators combined, and he has some fantastic tips on working with sterile cultures and spawn
All donations will go to Fungi Foundation! 
Jeff Chilton, raised in Pacific Northwest, studied Ethno-mycology at the University of Washington  in the late sixties. In 1973 he started work on a commercial mushroom farm in Olympia,  Washington. During the next 10 years he became the production manager, responsible for the  cultivation of over 2 million pounds of agaricus mushrooms per year. He was also involved in the  research and development of shiitake, oyster and enoki mushrooms which resulted in the earliest  US fresh shiitake sales in 1978.  
In the late seventies he was a co-founder of Mycomedia, which held 4 mushroom conferences in  the Pacific Northwest. These educational conferences brought together educators and experts in  mushroom identification, ethno-mycology, and mushroom cultivation.

In the 1980's he operated a mushroom spawn business and in 1989 he started Nammex, a  business that introduced medicinal mushrooms to the US nutritional supplement industry. He  traveled extensively in China during the 1990's, attending conferences and visiting research  facilities and mushroom farms. In 1997 he organized the first organic certification workshop for  mushroom production in China. 
Jeff co authored the highly acclaimed book, The Mushroom Cultivator, which was published in 1983.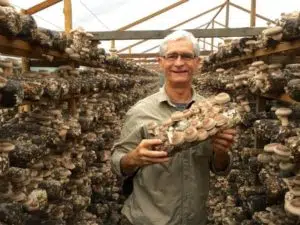 Scientist, Educator Entompathogenic Fungi Expert